There will be many ways to join Folklife in honoring the life and contributions of Pete Seeger at this year's Festival coming up May 23-26th.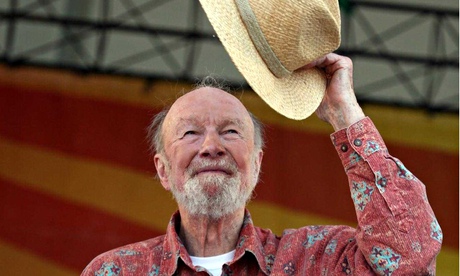 Folk singer and activist Peter "Pete" Seeger had a great influence not only on folk music, but countless musicians and attendees of Northwest Folklife. There will be a special Singalong Tribute to Pete at the Fisher Green Stage on Monday, May 26th from 1-3:45pm. The tribute will be hosted by Peter McKee, Tom Rawson, Lou Truskoff, Jean Geiger and Dan Maher. All are welcome to join in the sing along!
In partnership with SIFF Film Center, we'll be screening Pete Seeger: Power of Song , Directed by Jim Brown, on Sunday, May 25th at 12:00PM.
Catch "Pete: The Songs and Times of Pete Seeger" in the JBL Theatre located in the EMP on Saturday, May 24th at 12pm. This is a multi-media live concert sing along celebrating the songs and times of Pete Seeger, hosted by Peter McKee.
Tom Rawson will present a "Children's Pete Seeger Sing Along" in the Cornish Choral Courtyard on Saturday, May 24th at 2pm. Bring the little ones to introduce them to the songs of Pete Seeger!
See you all at the Festival!